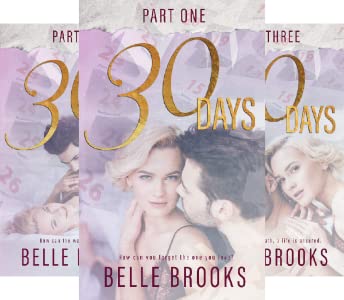 From Book 1: "My heart is in my throat. So incredibly well written, it will grab you, and draw you in." ~ Reading is my middle name
Sometimes we choose to forget the things in life that hurt us the most.
What has Abigail forgotten? What has been erased?
Plenty, apparently …
Abigail, the self-proclaimed hexed, is falling apart at the seams. She's mad at the world—at the series of doors that continue to slam in her face. Most of all, she's mad at herself.
When her best friend Sammy interferes in her spiral of self-loathing with an intervention, she finds herself walking into a successful law firm and right into Marcus's lap.
He's sophisticated, funny, and alluring … but he's also underhanded. There's something else about Marcus that Abigail never expected: a link to her past. But are some secrets better left hidden?
CLICK BELOW TO PURCHASE THE ENTIRE THIRTY DAYS (3 books) SERIES